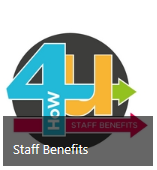 Employee Benefits
Generous holiday entitlement - 25 days for business support staff, rising to 30 after 2 years' service plus bank holidays, 37 days for academic staff plus bank holidays (plus college closure periods at Christmas and Easter)
Excellent development opportunities including dedicated staff development days
Local Government and Teachers' Pension Scheme
Enhanced maternity, paternity and sick pay schemes
Free staff parking (Redditch & Bromsgrove Campuses only)
Employee Assistance Programme - Access to a free and confidential counselling helpline.
Specsavers Eye Care Vouchers – please contact the HR Department for further information.
Volunteering in the Community - In keeping with the ethos of the college serving its community, staff are able to request paid time off from work, with approval, in order to undertake volunteer work. This will be a maximum of 5 working days per annum or pro rata for part time staff.
Get Office 365 for free - Employees are eligible for Office 365, which includes Word, Excel, PowerPoint, and OneNote, plus additional classroom tools.